Meet the Pastor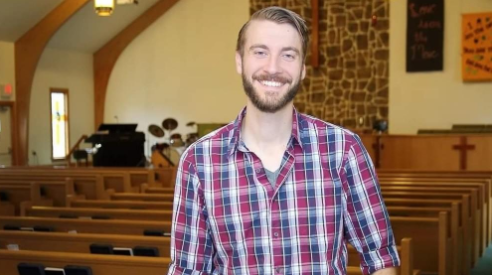 Hello, I'm so glad you're exploring Trinity Church! I hope you find the information you need here to take your next step. Reach out and let us know how we can help! I would love to hear your story and see how we can connect with you as we journey together towards thriving in Christ. Here is some of my own story:
I grew up in Hershey, PA. Never in my craziest dreams did I Imagine I would become a pastor! As a pretty average, shy, life-long church-goer from a Christian family, I was in high school when God started working in my heart and calling me deeper as a follower of Christ. My faith grew through the local church and youth group and I began to feel this reluctant call to ministry. After several years of wrestling, God won. I am so glad I said yes. What an adventure it is to follow Christ!
After attending Messiah College with my high school sweetheart, Emily, we graduated and got married. We served together at Halifax United Methodist Church for eight years where I was an associate pastor, focusing on children and youth ministry, while I also worked through my master's degree at Asbury Theological Seminary. In 2018 we were called here to Trinity UMC in Danville, where the next chapter of this adventure has been excitedly unfolding!
Emily and I have four children who make life wild and amazing: Julia is 5, Edison is 4, Gideon is 3, and Joel is 1 (confession: I still confuse their birthdays at the doctor's office sometimes). We also have a big yellow dog named Honey. Yes, we are crazy—and most days enjoying it! My wife is an extreme extrovert, I am a pretty strong introvert. Whether in family or in ministry, we love doing life as a team. I enjoy soccer, running, obstacle course races, reading books, writing / playing / listening to music, and connecting with close friends.
Maybe this is not what you'd expect to hear from a leader, but most of the time, I don't know what I'm doing. That seems to be right where God wants me, desperate for His presence to lead. On my best days, you'll find me there, seeking God's face for every step of the journey—that is what I have found to be the most fruitful place. My heart burns to see the church awakened in this day: to rise above the complacency, the decline, the division, the despair, and wake up to the ever-present, world-changing presence and power of Jesus Christ. Still, I know my heart doesn't yet burn enough. As I seek for this fire burn brighter in my life, I'm hoping to see more fires lit in the lives of others along the way. God's grace is amazing. Wherever you're coming from, I hope you experience God welcoming you in this place.
With love,
Pastor David Layser